Advanced Hip Arthroscopy Information
Hip Arthroscopy is a fast growing area in Orthopaedic Surgery, as many patients with hip and groin pain are in need of it. Despite this, very few orthopaedic surgeons are familiar with hip arthroscopy and even fewer general physicians and patients are aware it exists. Hip arthroscopy is not a major part of training programs for orthopaedic surgeons as there are only a small number of Orthopaedic Surgeons in the world who are qualified to teach hip arthroscopy.
Dr. Hyman is the founder and Medical Director of the The Advanced Orthopedic Surgery Center.
The procedure has long been popular in Europe but has only begun to gain popularity in the past few years in the United States. In the U.K., Dr. Villar is a pioneer in the field, as is Dr. Ilizaliturri from Mexico City. The major U.S. centers are in Vail, CO (Dr. Philippon), Nashville, TN (Dr. Bryd), Los Angeles, CA (SCOI), San Francisco (Drs. Sampson and Glick), New York (Drs. Kelly and Dr. Buly) and Boston (Dr. McCarthy). After completing advanced training with most of these surgeons, Dr Hyman, a Harvard grad, established the Atlanta Center for Hip Preservation ™ so Georgia patients wouldn't have to travel so far out of state to have these procedures (osteoplasty, labral repair, labral reconstruction, etc).


with Dr. Marc Philippon


with Dr. Tom Byrd


with Dr. Bryan Kelly
Hip arthroscopy was first performed in 1939 and the technique progressed slowly for 40 years. In 1977 Dr. Jim Glick (influenced by arthroscopy pioneer Dr. Lanny Johnson) began performing hip scopes and he is regarded as a true pioneer in the field.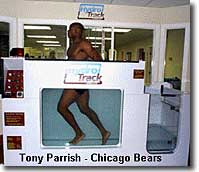 Famous hip arthroscopy patients include: singer Barry Manilow and Professional athletes like golfer Greg Norman, hockey player Mario Lemieux, skater Tara Lipinski, and football player Priest Holmes. Several NBA Basketball players have had hip arthroscopy in recent years, including Theo Ratliff with the Atlanta Hawks (2002), Sam Cassell, Joe and Josh Shipp, and Troy Hudson (2008). Thousands of hip arthroscopy surgeries are performed in the US each year. Despite this history, good patient results and the major advances in the field since 2000, many insurance companies don't recognize hip arthroscopy as a procedure!! Some plans provide coverage but others still consider it 'experimental.' As a result, many patients who need the surgery have to pay a higher 'out of pocket' amount. The good news is, the surgery can be very helpful for the right patients. At the Atlanta Center for Hip Preservation, we work hard to make the arthroscopy procedure affordable and rewarding.

Until very recently, hip arthroscopy has often just involved looking inside the joint with a camera and rinsing it out (debridement). With new advances in technology, a select few surgeons have actually learned ways to treat and repair a wide variety of conditions: loose bodies, labral tears, cartilage damage, bone spurs, arthritis and impingement (CAM and Pincer femoroacetabular impingement or FAI).

Since the latest techniques in hip arthroscopy are relatively new (since 2000), it is difficult to find surgeons or physical therapists who are experienced with not only the surgery, but also the recovery. Both are important. For guidance, you can email us at [javascript protected email address].