After Your Surgery or Injury Today
The first several hours and days after surgery or an injury can be stressful and anxiety provoking. One question we get a lot is: "Why is my leg numb?"
Most of the time, this is because some of the small nerves in the skin are cut during surgery or they are crushed from an injury. Initially, there is a zone of numbness where the nerves are disconnected, compressed or stretched. Over time, the new nerve branches grow and cross the scar tissue into this area, and the numbness usually shrinks in size or disappears completely. It does not result in any loss of function.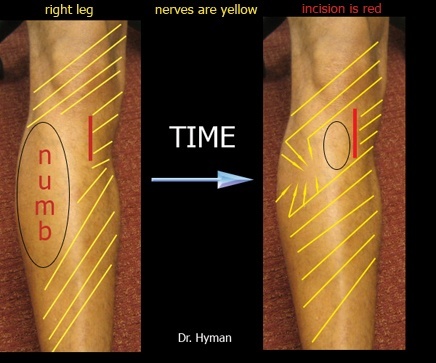 Numbness shrinks away over time
Another frequent question if you are wearing a sling is: "Why is my arm swollen?" In a sling, or elbow brace, the elbow is usually bent. In this position, the blood flows down through arteries, into the forearm, and into the hand, but when the blood tries to come back in the veins, it gets blocked due to the kink in the veins of the elbow, like a hose, and the forearm swells.
You can usually reduce the swelling bysqueezing your hand to force the blood and fluid back up the arm, or by loosening the sling slightly, elevating your forearm and letting your arm straighten out. This is usually the best choice if you're in the sling b/c of your shoulder. If you are in the sling b/c of your elbow, your doctor may want you to leave it as it is.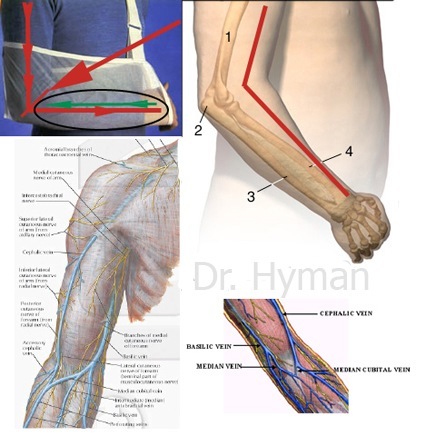 Bent elbow leads to forearm/hand swelling
A frequent question after shoulder surgery is: "Why is my arm and hand numb or tingly?"
This is common after swelling from the arthroscopy fluid (gallons and gallons of cold water which were pumped through your shoulder) or from the intrascalence injection of numbing medicine that your anesthesiologist injected in your neck. This is done either before, during, or after surgery, and if it was done during or after, you may not remember. The nerve "block" usually wears off within 12-18 hours.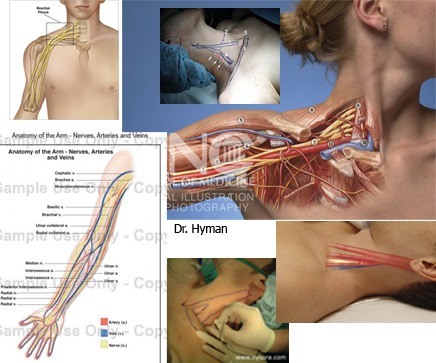 Irritated nerves in neck can cause tingling and numbness in arm/hand

Disclaimer: These are common circumstances but are NOT guaranteed to explain your symptoms exactly. If you have more concerns, contact your healthcare provider.