Allograft Tissue Issues
Since the implementation of currently validated serological (blood) tests, there has been only one nationally reported case where a donor's tissue was found to be the source of a virally transmitted infection, Hepatitis C. The initial testing of the donor was negative, but subsequent tests were positive. There are 26 documented cases of bacterial infection in the past 10 yrs. In 1999 alone, 750,000 allografts were surgically implanted.
There were three reported cases in 2001 of patient deaths after the surgical implantation of allograft tissue in knee surgeries. That report by the CDC sparked a resurgent interest in allograft tissue safety and increasing scrutiny by the FDA and American Association of Tissue Banks.
Well Known Allograft Tissue Banks
Obtaining Allograft Tissue
Step 1. Donor Death


Recovery Time: Time elapsed between death and Tissue Procurement (harvest). Usually < 24 hrs.

Step 2. Aseptic Processing


This process minimizes contamination of tissue at the tissue bank, but it does not eliminate contamination originating from the donor that might already be present. It reduces graft contamination from the environment, processing personnel and equipment. As stated in the March 2002 issue of the CDC's MMWR, "aseptically processed tissue should not be considered sterile, and health-care providers should be informed of the possible risk for bacterial infection."

Step 3. Donor Screening


Serologic testing for virus; physical exam of the donor, medical history review; bacterial and fungal cultures; a final decision to accept or reject the tissue for transplantation.

Using current screening and testing protocols, the risk of implanting tissue from an HIV-infected donor is less than 1:1,000,000. The risk for Hepatitis B or C is higher, because of the greater number of people affected and because of limitations in testing methods. Human errors in screening and processing can also be factors.

Step 4. Allograft Tissue Disinfection "Terminal Processing"


Human cadaveric tissue is not as easily sterilized as metals or plastics. Often, ethylene oxide or gamma irradiation are used, but these techniques can have adverse effects on the tissue. Care must be taken not to destroy the mechanical properties & strength of the musculoskeletal tissue while it's being processed. There are several tissue-processing techniques, used by various tissue banks. To date, the safety and efficacy of these techniques have not been scientifically established. The FDA is scientifically reviewing validations of these processes now.

Allowash (Lifenet): uses ultrasonics, centrifugation, negative pressure, reagents, biological detergents, alcohols and hydrogen peroxide.

Cryopreservation (CryoLife): incubates tissue in antiobiotics for 24 hrs, then freezes to -137 C.

Biocleanse (Regeneration Technologies): avoids use of excess heat, irradiation or ethylene oxide. Low temperature chemical sterilization, which claims to completely penetrate tissue and eliminate contaminants from the graft.

Clearant Process (Clearant, Inc): radiation, freezing, water extraction, stabilizers, and anti-oxidants such as Vitamin A and C. From Clearant's promotional material: This is the only final packaging inactivation methodology that offers allograft sterility equal to OR ready medical devices with no tissue damage, inactivates all types of microbial pathogens, including viruses, bacteria, fungi and spores, without impacting the structural or biomechanical integrity of the allograft.

Clearant's Patented Allograft Sterilization Process
Despite rigorous screening and processing, there is a small chance that allograft tissues donated from cadavers still contain bacteria such as Clostridium sordellii, or viruses such as HIV or hepatitis C.

To meet the growing demand for safe allograft transplants, biomedical companies have been working on ways to reduce the risk of undetected infections. The Clearant Process, which sterilizes allograft tissues, subjects devitalized types of tissue, such as tendons, ligaments, and bone grafts, to an extremely high dose of gamma radiation, up to 50kGy. More standard sterilization processes expose allograft tissues to one third of those levels, somewhere between 15 and 20kGy. While the lower dose of gamma irradiation has maintained the tissue's biological properties, it does not eliminate the risk of viral infections. Through its research, Clearant has found that 50kGy is the minimum dose needed for viral inactivation, though such a high dose will damage the tissue. However, when treated with its proprietary chemical process, Clearant tissue is able to safely withstand 50kGy. The result is an allograft that is sterile with virus inactivation and that is biologically stable. Moreover, bone tissue treated with Clearant's method maintains its osteoinductive and osteoconductive activities, a key concern when irradiated.

Dru Willey, PhD, acting chief science officer of Clearant, notes that the studies the company has conducted have shown up to now that allografts treated with Clearant's procedure are just as effective as allografts treated without the Clearant Process, yet with the advantage of the tissues being sterilized. "What we provide is the assurance that even if an undetected infection is there, we're treating it with enough irradiation to make sure that there are no bacteria or viruses that would be transmitted with the allograft," says Willey.

Clearant's entire preparation and sterilization process takes 4 to 5 days. The treated tissues are then transported in a sealed, sterilized container. Clearant licenses its method to tissue banks, and recently began direct distribution of its own brand of sterile soft tissue and sterile cervical spinal allograft implants.

Step 5. Packaging and Delivery


Deep freezing or Freeze drying, sealing and transport. Many tissue banks label their package contents as "sterile." This labeling has not been confirmed or validated and is currently under investigation by the FDA. The grafts are thawed out and rinsed in antibiotics minutes before use.
IMPORTANT: Allograft tissue processors are required to follow mandatory federal and state regulations. The FDA and only two states, FL and NY, require inspection and/or licensure of tissue processing facilities. As of 1/1/05, there are 154 tissue banks in the U.S. and not all of them are certified.
Dr. Hyman only requests tissue from Tissue Banks Accredited by American Association of Tissue Banks.
FAQ: How Much Does an Allograft Cost?
The cost of the allograft tissue is borne by the Surgical Facility/Hospital, and they in turn try to get reimbursed for the cost from your Insurance Company. You do not pay for it.
Although the allograft tissue is an additional expense, using one saves the surgeon time and cutting down the time saves the facility money. In the end, it doesn't appear to add much to the cost of the surgery, and may make it less.
Primary ACL Reconstruction with Allograft. The cost of allograft tissue has been a concern in the past. A recent article by Cole and colleagues compared the costs associated with ACL reconstruction using either autograft or allograft. Patients underwent reconstruction using either bone-patellar tendon-bone autograft or freeze-dried Achilles tendon allograft. The hospital charge for ACL reconstruction was $4622 for allograft and $5694 for autograft (P < .0001). Allograft reconstruction of the ACL was significantly less expensive than autograft bone-patellar tendon-bone reconstruction. The difference in the cost was due to increased operating room time and a greater likelihood for overnight hospitalization in patients undergoing autograft ACL reconstruction.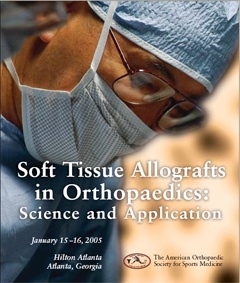 From the January 2005 American Orthopaedic Society of Sports Medicine Meeting (AOSSM) on Allograft Tissue Safety in Atlanta, GA.
Major reasons for sterilization of connective tissue allografts
Contamination of intestinal bacteria into blood
Occult perimortem infection
Contamination of tissue during recovery or processing
Screening failure (infectious "window")
Emerging diseases
Disease Transmission
3 known cases of severe viral infection from BTB Allografts
All cases were from frozen but not sterilized or processed grafts
Patients who received freeze dries grafts from the HIV donor did not become positive

1 HIV, 1991
2 Hep C, 1995
Bacterial Infections
4 reports of bacterial septic arthritis from Clostridium septicum from BTB allografts
CDC traced the source to donors at two tissue banks, one with and one without lapses in tissue processing
Death of patient who received knee osteochondral allograft from Clostridium Sordelii
All allografts should be cultured before implantation
Sterile Allografts
1st donor selection
2nd tissue procurement
3rd sterilization (optional)
(Most methods unsuitable for tissue)
Donor Selection
Detailed medical and social history
Serologic test for:


HIV I/II antibodies
HIV Antigen
Polymerase chain reaction HIV
Hepatitis B surface antigen
Hepatitis B surface antibodies
Hepatitis B core antibodies
Hepatitis C virus antibodies
Rapid plasma regain test for syphilis

An autopsy of potential donors, with a separate study of lymph nodes, completes the screening process.
Currently, only the medical and social history and serologic testing are required by the Food and Drug Administration (FDA)
Procurement
Sterile harvest
Grafts are placed into separate, airtight packages
Stored in deep freeze at temp below negative 80 degrees C
The deep freeze state should be maintained for at least 48 hours before clinical use
Freeze drying allows storage in room temperature
The grafts can be stored for years
Sterilization
Fresh frozen tissue
Most common technique for processing ligament allograft
After tissue harvest under sterile conditions, the tissue is cultured and frozen while serologic test results are performed in a process that takes 2 to 4 weeks
The tissue is then soaked in an antibiotic solution at room temperature for 1 hour and packaged and frozen without solution for up to 5 years.
No viable cells reliably survive this process, which has several important clinical ramifications. Loss of cells decreases the likelihood of immune reactions or disease transmission, however, the effectiveness of this treatment is controversial
Fresh frozen grafts can be rapidly thawed in room temperature saline (Totally dependent on human performance)
Freeze Drying
Freeze-dried allograft tissues are also commonly used in ligament reconstruction
After harvest under sterile conditions the tissue is frozen, pending serologic and bacterial culture results
They are then subjected to a 1 hour bacterial solution soak at room temperature
A process of refreezing and lyophilization (drying) to residual moisture of less than 5%, followed by packaging and storage up to 5 years, is then performed
Even though the color and strength of the tissues are altered, studies have shown no deleterious effects on clinical outcomes of ligament reconstruction
Biomechanical effects of freeze drying in goat grafts: decrease in stiffness, maximum load, elongation and energy
Freeze dried grafts need reconstitution in saline solution for at least 30 minutes
Does NOT kill HIV
Gamma Irradiation
2.5 Mrad is recommended by the International Atomic Energy Agency for sterilization of biologic tissues
Most banks use 1.5-2.5 Mrad
Unclear if this dose eradicates HIV
At 2.0-2.5 Mrad the HIV virus was still detected by PCR (Fideler, JBJS 1994)
When doses > 3.0 Mrad no virus was detectable (Fideler, JBJS 1994)
To ensure destruction of the virus 4.0 Mrad has been recommended (Noyes)
Always
Inform the patient of Risk/Cost/Outcomes
Use accredited tissue banks 58 out of 148
Use broader spectrum ABX
Culture prior to implantation
Reasons NOT to culture first:
risk of contamination when graft package opened.
Surface culture, inappropriate media, nowhere near the level of sterility used at Bank
False negative results
False positive results: treat or not treat?