Atlanta Center for Hip Preservation
The Atlanta Center for Hip Arthroscopy™ was established by Dr. Jon Hyman to satisfy a growing need for Georgia patients to access state-of-the-art techniques in hip arthroscopy without leaving home. Dr. Hyman is one of a select few hip arthroscopists in Georgia performing all arthroscopic hip labral repairs and femoral neck osteoplasty for impingement. Dr. Hyman's experience and skill is unlike any other. He has travelled all over the county training with the nation's top pioneer triumvirate of hip arthroscopists: Dr. Marc Phillppon, at the Steadman Hawkins Clinic in Vail, CO; Dr. Thomas Byrd of the Nashville Sports Medicine and Orthopaedic Center in Nashville, TN; and Dr. Bryan Kelly at the Hospital for Special Surgery in New York, NY.
The Atlanta Center for Hip Arthroscopy has proven solutions for patients in need. Dr. Hyman founded the Hip Arthroscopy Center of Excellence at Emory Adventist Hospital. He served as it's Medical Director until building and opening a newer center focused on arthroscopic hip surgery: The Advanced Orthopedic Surgery Center.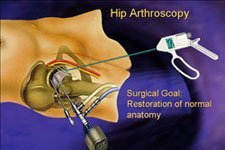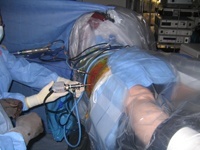 While a skilful surgeon is absolutely necessary for a good surgical outcome, the recovery process also depends upon the quality of physical therapy, rehabilitation, support and encouragement you, the patient, receives. Dr. Hyman's team is outstanding in its "hands on" approach to your recovery. The Hip Preservation Pathway, unique to this practice, was designed to make the experience smooth and rewarding. This Clinical Pathway assists you in:

1. Submission of medical records for physician review
2. Initial visit/ Screening evaluation
3. Diagnostic testing: examination, X-ray, MRI, or CR scan
4. Exploration of treatment options: non-surgical and surgical
5. Physical Therapy: pre-rehabilitation and rehabilitation
6. Sports performance enhancement and recovery
7. Patient education and awareness
8. Billing procedures, Insurance and Payment arrangements
9. On-going follow-up, continuity, and communication
10. Accommodations for out-of-town patients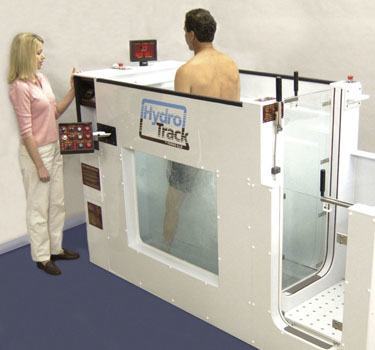 Underwater Treadmill Post-op