Bursitis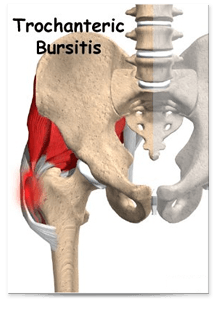 There is one primary type of bursitis that affects the hip area: Greater trochanteric bursitis is inflammation at the lateral or outside part of the hip joint and is a very common diagnosis.

Many joint problems are mistaken for trochanteric bursitis and patients can spend months or years being treated for 'bursitis' when the problem is really originating in the hip socket. Bursitis occurs when the bursal membrane gets inflamed from repeated overuse (cycling, running, squats, lunges, direct pressure or prolonged periods of sitting) or from injuries like falls at work, home or in sports.

In most cases, bursitis will resolve on it's own. Occasionally, getting rid of bursitis requires stretching exercises, strengthening in rehabilitation or physical therapy, cross training, rest, anti-inflammatory pills (NSAIDS) or cortisone injections directly into the bursa. Bursa shots can be done in the office and do not require someone to take you home afterwards.

One or two cortisone injections can often clear up bursitis but when it won't go away or keeps coming back, hip arthroscopy and 'bursectomy' or shaving/suctioning out the bursa may be necessary to cure the condition.