Labral Reconstruction
Atlanta Hip Labral Repair and Reconstruction
Harvard trained hip arthroscopy specialist Dr. Jon Hyman established The Advanced Orthopedic Surgery Center in Atlanta, Georgia as a regional Center for Excellence for arthroscopic hip labral repair surgery. We give our patients top-notch service and best in class technology to repair a torn labrum or reconstruct a damaged hip. Dr. Hyman built this state-of-the-art facility to specialize in labral reconstruction surgery to serve patients from the greater Atlanta metro area as well as patients outside of Georgia.
Labral Reconstruction Frequently Asked Questions
What is Labral Reconstruction?
It is a minimally invasive arthroscopic hip surgery wherein the damaged or deficient acetabular labrum is replaced (transplanted) with either your own tissue (autograft) or cadaver tissue (allograft). The decision of which type of tissue graft to use is made jointly by you and Dr. Hyman. The procedure can be done in the setting of hip dysplasia, labral repair, femoroacetabular impingement (FAI) or during a second hip arthroscopy.
How painful is the surgery?
Our patients report very low levels of discomfort in general. The medications we prescribe, as well as ice/cryo therapy to the hip, should take care of the pain without making you too groggy.
While some surgeons do the procedure with 4-5 portals, or a large open scar, most of our patients undergo labral reconstruction surgery via hip arthroscopy with 3 tiny puncture holes. Some surgeons keep patients overnight in the hospital for pain control. Our patients have had such low levels of pain post-operatively that our patients have labral reconstruction as an outpatient surgery and go home the same day.
Why reconstruct the labrum?
In short, we do it to help preserve the health of your hip. The acetabular hip labrum is important for the prevention of arthritis, athletic performance, stability and cartilage health. It is a cartilage seal on the rim of the socket, but it is fragile and can tear or cause pain. Not all labral tears heal when repaired or can be repaired in the first place. Repairing the labrum or reconstructing it is a technically challenging surgery and many surgeons doing hip arthroscopy simply remove the damaged labrum, without restoring it. While this can help a few patients, some continue to have pain after hip arthroscopy. Properly restoring the labrum with labral reconstruction surgery can remove the pain generators and restore biomechanical function.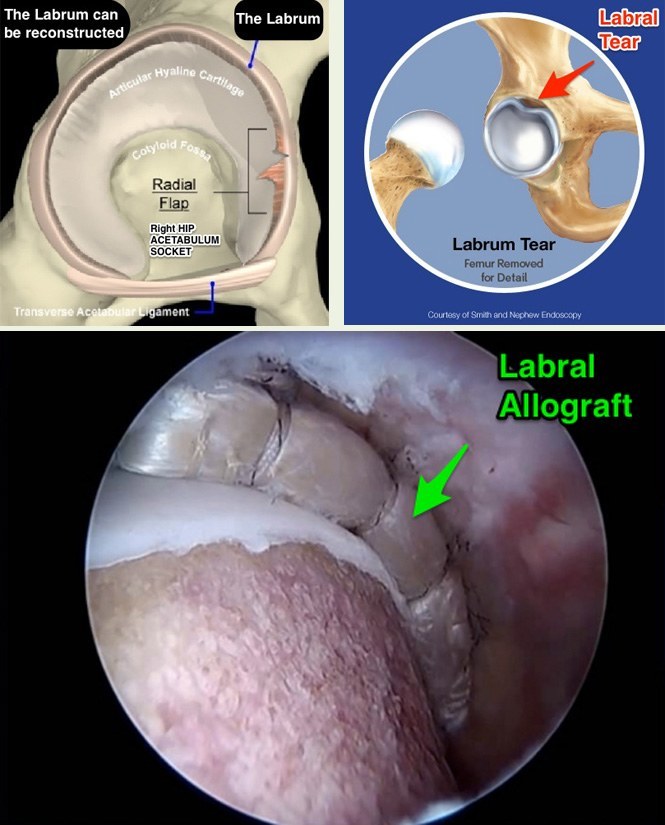 Why do so few surgeons do it?
Labral reconstruction is an Advanced Hip Arthroscopy procedure within a specialized area of orthopedic surgery. It requires highly technical skills and specialized equipment that few centers have. The procedure requires meticulous precision and has a steep learning curve. Dr. Hyman's expertise is unique in that he has trained at the best institutions in the United States of America:
#1 orthopedic residency – Hospital for Special Surgery
#1 orthopedic sports medicine fellowship – Hospital for Special Surgery
#1 pre-medical university - Stanford
#1 medical school - Harvard
Having learned labral reconstruction first hand from pioneers Dr. Marc Philippon and Dr. Brian White, and mentors at Harvard Medical School and the Hospital for Special Surgery, he has exceptional training and experience. As a testament, via an ongoing annual Instructional Course Laboratory, Dr. Hyman holds the record for being the only orthopedic surgeon to successfully complete the full labral transplant surgery at the training facility. Since he designed and equipped The Advanced Orthopedic Surgery Center, he can make certain the latest technology is used in caring for his patients.
What tissue do you use?
Iliotibial band (ITB) or hamstring (gracilis) tendon are the most commonly used tissue allografts. If your own tissue is used, ie autograft, Dr. Hyman uses a small piece of your iliotibial band from your hip muscle. That can weaken the muscle slightly and temporarily. Because the use of allograft tissue is safe, involves less cutting and less time, he typically uses healthy cadaver graft tissue. Dr. Hyman has successfully surgically implanted hundreds of allograft tissues of different types over the past twenty years.
How do I know if I need labral reconstruction surgery?
The most common reason to potentially need this surgery is Hip Pain after you've already had Hip arthroscopy. Arthroscopic surgery of the hip with labral reconstruction is a procedure that may be necessary if you've had previous arthroscopic hip surgery in which a portion or the entire labrum was removed or if the labrum was repaired and there is ongoing pain. Labral Reconstruction is also sometimes indicated if the labrum is torn beyond repair or is deficient. We do so many repeat surgeries on patients referred to us after prior surgeries failed that we have extensive experience in determining if you are an appropriate candidate for the procedure.
How much does it cost?
The surgery is affordable and generally covered by insurance. At present, there is no specific CPT code for labral reconstruction surgery so it is billed as an 'unlisted procedure.' It is not experimental, though it is cutting-edge surgery. It has to be billed properly for coverage. Our office is very experienced in working with insurance companies to cover the procedure – and they know our protocol. We've heard of some situations elsewhere when patient's were denied coverage after the fact and that's not good for anyone.
The cost of Labral Reconstruction Surgery varies. It is more complex than routine labral repair, and involves more specialized techniques, equipment and suture implants, but Dr. Hyman has successfully been able to get the insurance companies to reimburse for the procedure. This takes the financial burden off of the patient. The main advantage we've seen in getting the procedure covered is because of the efficiencies of our state-of-the art surgery center – which is specialized for the procedure, and can save the Insurance company money too. Please call our office at (770) 363-8770 and ask to speak to our Billing Manager for details.
What is the Recovery time or Rehabilitation After Surgery?
We built a uniquely equipped Hip arthroscopy focused Physical Therapy Center which is attached to our office. Our therapist is well versed in rehabilitating patients after hip arthroscopy and we have adapted our rehab protocol to be customizable to the patient's specific needs. The rehab program requires a commitment to a 3 month period of twice weekly visits. This rehab can be done at our facility or one closer to work or home. Our protocol is designed to help patients recover fully and quickly.
Where do you do the surgery
The Advanced Orthopedic Surgery Center in Atlanta, Georgia is a state of the art facility designed specifically with hip arthroscopy in mind. As the Medical Director and founder of the Hip Arthroscopy Center of Excellence at Emory Adventist Hospital, Dr. Hyman has assembled the technology and staff to provide the best surgical experience possible for you. Our nurses and anesthesia staff are here to care for you and get you home safely after this outpatient surgery.
Is it experimental surgery?
No. In the U.S.A. this surgery is performed thousands of times each year. Here are some links to research articles about it. Several research studies were published by surgeons Dr. Marc Philippon and Dr. Brian White, who trained Dr. Hyman in Labral Reconstruction surgery.
---
Boykin RE, Patterson D, et al. Results of arthroscopic labral reconstruction of the hip in elite athletes. Am J Sports Med (2013) 41:2296–301.

Domb BG, El Bitar YF, Stake CE, Trenga AP, Jackson TJ, Lindner D. Arthroscopic labral reconstruction is superior to segmental resection for irreparable labral tears in the hip: a matched-pair controlled study with minimum 2-year follow-up. Am J Sports Med (2014)42:122–30.

Geyer MR, Philippon MJ, Fagrelius TS, Briggs KK. Acetabular labral reconstruction with an iliotibial band autograft: outcome and survivorship analysis at minimum 3-year follow-up.Am J Sports Med (2013) 41:1750–6.

Matsuda DK, Burchette RJ. Arthroscopic hip labral reconstruction with a gracilis autograft versus labral refixation: 2-year minimum outcomes. Am J Sports Med (2013) 41:980–7.

Philippon MJ, Briggs KK, et al. Arthroscopic labral reconstruction in the hip using iliotibial band autograft: Technique and Early outcomes. Arthroscopy (2010) 26:750–6

Sierra RJ, Trousdale RT. Labral reconstruction using the ligamentum teres capitis: report of a new technique. Clin Orthop Relat Res (2009) 467:753–9.

Walker JA, Pagnotto M, Trousdale RT, Sierra RJ. Preliminary pain and function after labral reconstruction during femoroacetabular impingement surgery. Clin Orthop Relat Res(2012) 470:3414–20.

White BJ, Stapleford AB, et al. Allograft use in arthroscopic labral reconstruction of the hip: minimum 2-year follow-up with front-to-back fixation technique. Arthroscopy (2016) Jan; 32(1): 26-32.