Labral Tear
Labral tears occur very commonly in the human hip. We don't know the true incidence. Not all labral tears require surgery either. We generally tend to operate on labral tears that are persistently painful. Typically, hip arthroscopy for a labral tear involves repairing the labrum with a suture anchor or a few of them.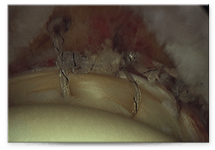 Repaired hip labrum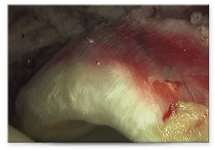 inflamed torn labrum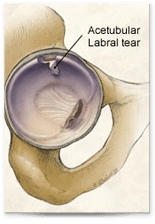 acetabular labral tear

The torn labrum can be degenerative, traumatic or related to gradually impingement over a period of years. The first image shows a yellowed labrum that has been sutured. The second picture shows a very inflamed labrum (the back pink/reddish part is very inflamed) and this can be characteristic of a PINCER lesion.

The third picture shows a more freshly torn labrum in an young female athlete. The labrum functions to help maintain proper pressure and nutrition in the joint and it acts as a seal, very similar to a gasket. We think it is important to preserve and repair the labrum when at all possible.

Click here to read more about labral tears.