Surgical Technique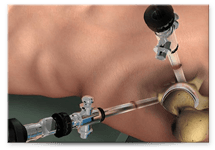 The surgical setup and technique for advanced hip arthroscopy are complex. Special equipment is required for this procedure and most facilities do not have this expensive and complex equipment available. Routine arthroscopy (eg. for knee or shoulder or elbow surgery) requires the use of a 30-degree camera lens on the periscope tools, but in hip arthroscopy, a special 70-degree lens is required. Very few surgeons learn to perform surgery with this special lens and since it requires different spatial and technical skills, most surgeons won't.

Unlike arthroscopy for other joints, arthroscopic hip surgery requires the patient to be put into a special position and table so the hip joint can be distracted (opened) to insert the camera. This is not an easily learned skill because the hip joint is very tight and deep. There are a lot of nerves and arteries in/around the hip joint that require a unique understanding of the anatomy, which is very important. This is one reason why Dr. Hyman continually re-familiarizes himself with hip anatomy by dissecting cadaver hips and teaching surgical anatomy courses.

The surgery generally takes 1-2 hours to complete, depending upon the complexity of the procedure. As you'll see in the animations, the procedure generally involves 2-3 small punctures placed at the lateral aspect of the hip. A camera is inserted and the joint damage is assessed. Injured tissue is treated and repaired and before and after photos are taken. Dissolvable sutures are placed in the skin and bandages are applied. Patients are taken to the recovery room and TED hose stockings are applied for protection against extremely rare blood clots. An ice pack is applied and when the patient is recovered (usually in 1-2 hours) family or friends take them home after this outpatient surgery.